Wanted:
Lovers of life, Seekers of truth,
Passionate explorers, Heart centered travelers…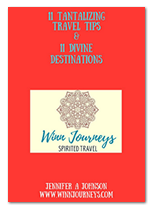 Sign up for your FREE ebook!
11 Tantalizing Travel Tips and 11 Divine Destinations
"All Journeys have secret destinations of which the traveler is unaware."
Martin Buber
Do you have an appetite for travel filled with amazing unique experiences while connecting with like-minded community? Are you filled with curiosity and ready to step out of your comfort zone?
If the answer is an enthusiastic YES, Then you are in the right place. Get ready to pack your bags!
Embark on a journey of the senses, an exploration of local foods, beverages and customs. Breathe in the native landscapes and natural beauty of our destinations.
Our handcrafted breathtaking journeys are guaranteed to awaken you, educate you, and transform you, all while having the time of your life!
This was one of the best experiences I have ever had, truly awesome! Jennifer arranged everything perfectly and I couldn't be more pleased to have had this opportunity to walk the Camino with such a wonderful group of people!
Stacie
"One's destination is never a place, but a new way of seeing things."
Henry Miller